I have been curious about the Meditation Lamps pictured in the Lava World gallery below. This is the only picture I have seen and I do not know of anyone who has one. If you do, or know someone who does, please post pictures.
I filled a Consort Globe with white lava and clear fluid. I blew the ad up till it matched the actual size of the Consort Globe. This gave me an idea of how big to make the Cross and where to position it on the globe. I made the Cross in Photoshop and printed it on a sheet of clear plastic that clings to glass. This is my best guess as to what the Meditation Globe with a Cross must have looked like.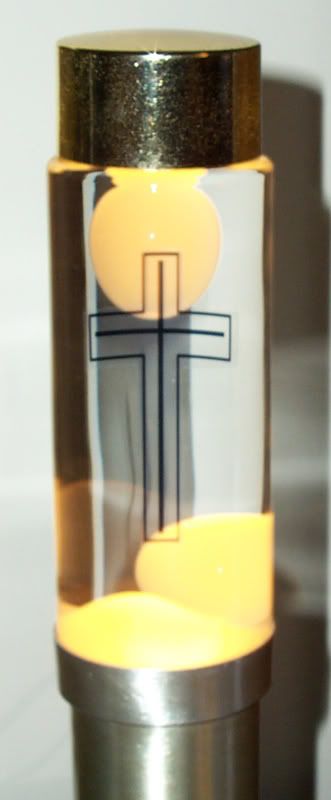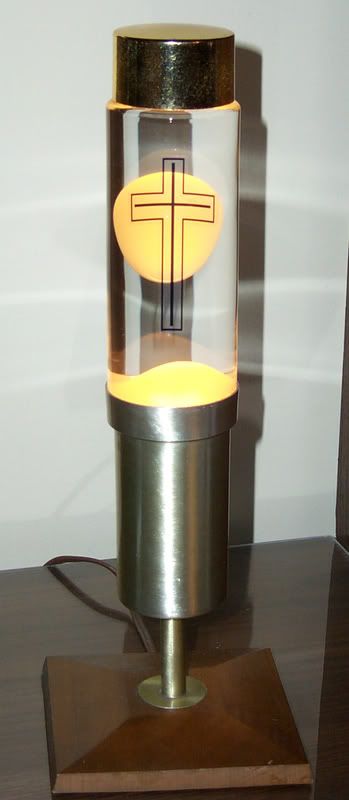 I was pleased with my first try, but there is a problem. The plastic that I printed the Cross on does not cling well on the curved glass of the globe. I think it was made to be put on flat glass such as a window. Any ideas on how to paint or transfer the image to the globe on a more permanent basis? Do you think this is close to what they were like or am I off base?