I found the "blog" feature today and decided instead of spamming the forums with my stories that most wont care about I will put them here. I will post my thoughts and "finds" about lava lamps here.
I spend a lot of time on craigslist trying to get lava lamps from the old hillbillies here and wow is it a frustrating process. At first I just put a post up saying I was buying lava lamps and a bunch of people messaged me saying they had lamps but they were all the cheap chinese ones you see on ebay so I modified my post. "I only collect lava brand lava lamps!" That stopped the flooding of crappy lamps but it also got rid of most offers.
My next wave of emails came in a format like this. "Hey I got a lamp to sell." and that was it, I would ask if they had anything and I would never get a response! I edited my post again. "Please email me with the following, shape of lava lamp, color of lamp base, color of lamp liquid, and color of lamp lava". This brought a new wave of idiots trying to describe the lamps to me. "Well the lamp is round...it has a sticker on it that said 120v oh and a made in china sticker". Once again follow-ups failed and the people quit replying.
So I get a good lead the other day for 3 centuries, one with a gold base, red lava, orange liquid, the other with a silver base, white lava, blue liquid, and a camel lamp. I arrange a place to meet the lady and when I see the lamps the bases are in good condition and the blue/white one looks to be in good shape but it is missing a little liquid, As for the red one its cloudy! She also told me her husband didnt want her to sell the camel lamp, damn. So I give her $50 for the lamps and take them home and plug them in. The red one looks like uncooked hamburger meat and flows like crap and the blue one is full of bubbles and only flows in a single column. I currently have them on a 2 hour timer to see if I can fix them, if not its time for a refill. Oh and I also got a blue/clear silver streak the same day and other than a little rust on the base its in amazing condition and flows great. I ended up putting the blue/clear in a midnight base.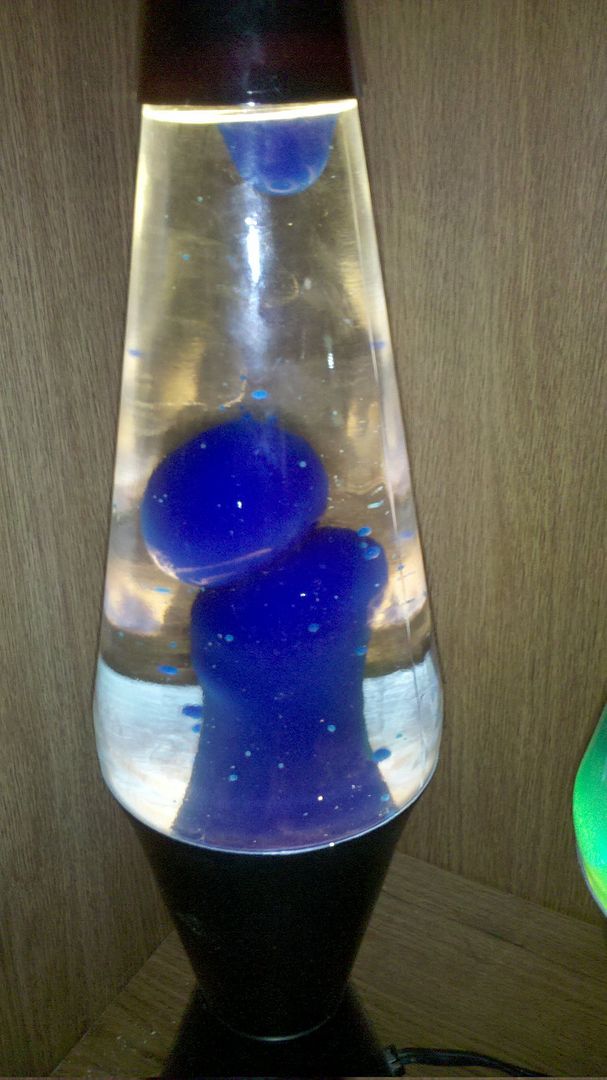 I also got another amazing craigslist find. I got a blue swirl but some moron wanted a silver streak and took a ginder to the cap and grinded off the paint on the top of the cap! I only paid $10 for this lamp. Morons...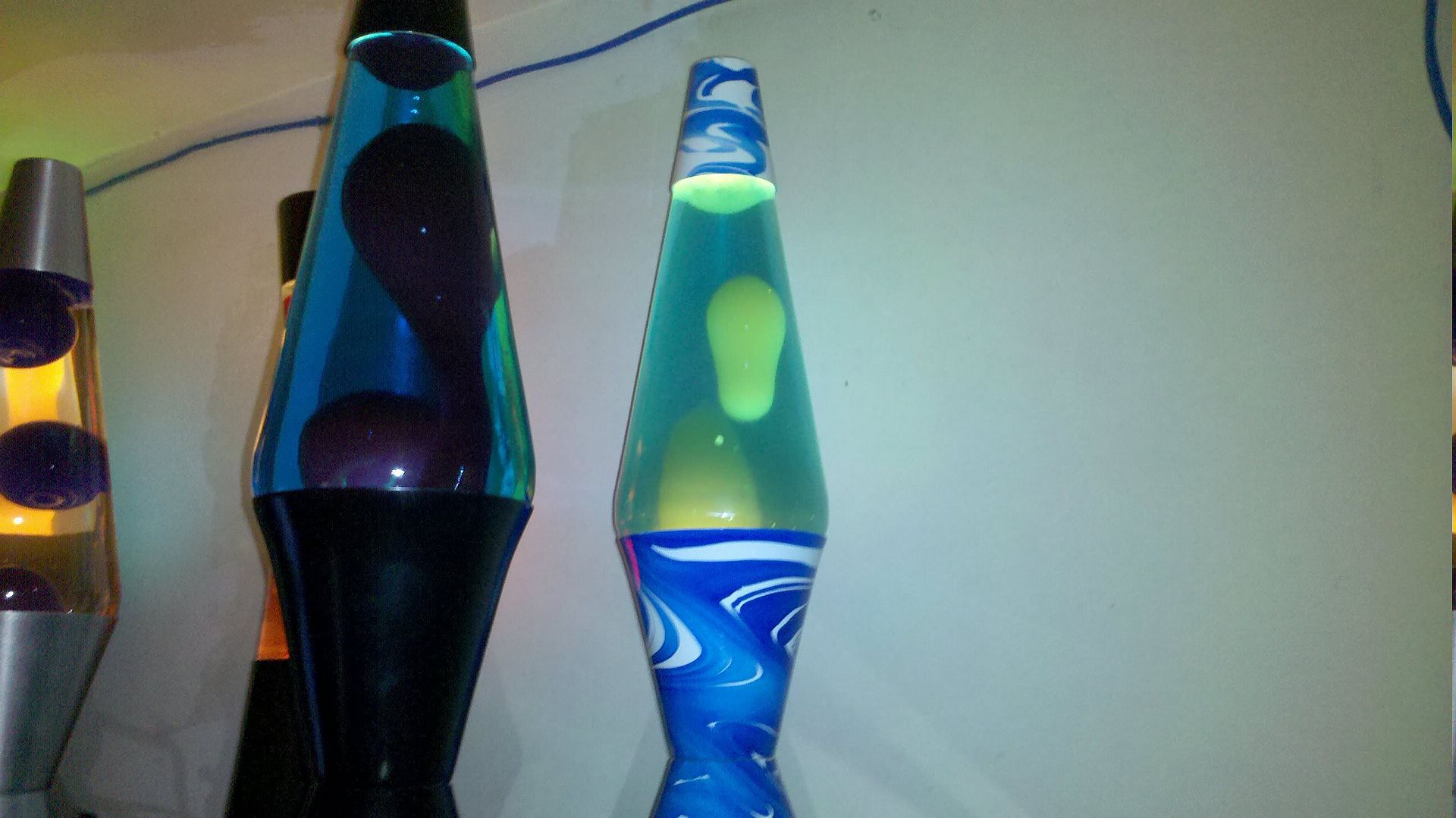 And for my final and slightly enraging craigslist find I got 3 lamps in 1 trip! This woman contacts me telling me she has 2 grande lamps she wants to sell me for $60 total. I jumped at the offer and made a 30 minute drive at 10pm to go get them. We met in a mcdonalds parking lot and I get there and she doesnt have any grandes. Instead she has an aristocrat with a red/orange in perfect condition. A pink/purple midnight. And a blue/white midnight with a screwcap. She still wanted $60 for all of them so I reluctantly took it after trying to haggle her down. Inside I was pretty angry about the whole situation but when I got back to the car my girlfriend who I had with me told me the reason she walked back to the car was because 2 mexicans were trying to carjack me! They took off when she got back in the car though...I was really shocked and it made me feel sick inside to even think about losing my car. What a shitty trip.
I later decided to take the blue/white and add green food coloring to it because I already have 2 blue/white lamps.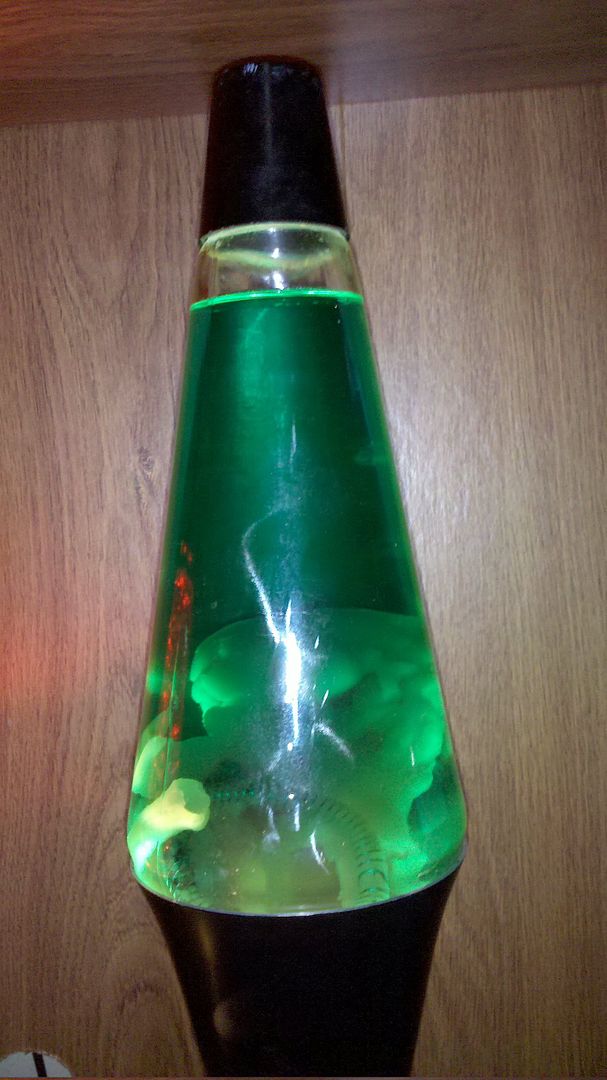 Last weekend at the flea market I found a hot rocks lamp with blue water and red lava and the lava sticks to the side... But not all finds at the flea market suck, I also got a red glitter wizard with a black base for $15! I also found a blue/yellow midnight for $15 as well but its missing its cap. I also saw a midnight with a blue/white globe which of course was missing its cap so I passed.
As for ebay finds I just recently got a blue and purple blip glitter lamps for $30 total which is a good find. The guy listed them as "plasma lamps". I found a blue/white midnight on ebay for $10 "buy it now" and I couldnt resist. I also saw a purple/yellow midnight for $3 "buy it now" so I bought it.
But my favorite of all my lamps is my red/clear silver starship. This guy had listed it for $75 with $15 shipping 3 times and I offered him $50 for it and he was cool enough to relist it for $100 "buy it now" and "best offer" and waited for me to offer $50 for it. I LOVE this lamp and I really want some more but they are so expensive.